Let's set the scene:
A box of wedding dresses arrives and they need to be out on your rails as soon as possible. Over to the most incredible steaming and pressing equipment I've ever seen. No more waiting for damp dresses to dry before being hung on your shop floor. Dry steam is the way forward!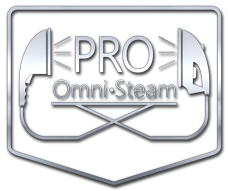 I recently had the pleasure of meeting David from Omnisew. He gave me a fantastic demonstration of their steamers and irons on various fabrics which was most impressive. I found them very easy to use, even as a left hander.
Not cumbersome, no more burning your hand with wet steam as you tackle under petticoats and linings. (We've all been there haven't we!) Creases simply drop out. No more towel wrapped around the steamer handle. No more muck spitting onto the gowns.
I started by asking David what the difference is between wet and dry steam as I only have experience of wet steamers.
He tells me, "The key differences between wet and dry steaming are, normal steamers are producing wet steam at the head continually at around 60 – 70 degrees c. The steam will make the fabric wet and often produces water droplets, this is a very slow process in removing creases from a wedding dress. Whereas our dry steamers produce steam from the boiler and is then super-heated at the steamer head producing a fine dry steam so there is no fear of water droplets or watermarks". 
I then went on to ask about how well their steamers work with bridal fabrics.
David advises, "The Duo Pro 5 Mk 1 DiGi 5 litre capacity is our most popular dry steam product for wedding dresses. It will produce dry steam from between 180 – 215 degrees c only when required on fabric with adjustable temperatures for any fabric from delicate tulle veils to silk wedding dresses and everything in-between.
The fabric will be dry after steaming and is 20 – 30 times faster than any other steamer on the market. The steamer head has a Teflon shoe which protects any fabric, beads or sequins from any damage. The steamer hand tool does not produce any water vapour or droplets when used in any position so there are no worries about damaging the fabric with watermarks".
Click the link to see a picture:
Living in a hard water area, as I do, is no issue at all as David continues, "The Duo pro 5 has an auto cleaning device to remove the limescale daily, is easy to fill and very easy to use".
I asked how someone goes about purchasing one of their amazing machines. He tells me, "They will be delivered and installed for free along with free tuition on how to use them. The unit also a plug in optional extra of a standard steam iron with a Teflon shoe".
Other products in their range include: The smaller Silver Star Mk2, 2.5 litre capacity with larger hand tool that can be used for ironing and steaming upright.
Click the link to see a picture:
And finishing the range is the Duo Pro 9 DiGi 9 Litre unit which is often used for men's wear hire with hand tool steamer, iron, steam brush and spot cleaning steam attachment.
What to do with your old steamer?! Well, Omnisew will trade in your old steamer how ever old or new against the price of a new one. Isn't that great!
And, finally, how much is the investment cost? David says, "We offer our machines on interest free credit at £110 per month plus deposit and VAT."   Pretty reasonable for something which will take a lot of hard work away – and give you incredible results. 
If you would like to try a machine in your showroom to compare, Omnisew will be happy to arrange a demonstration.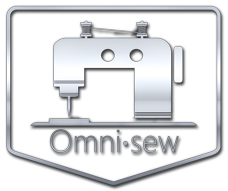 Sewing machines:
Click the link to see a picture:
Omnisew also offer a range of wedding dress alteration sewing machines including a straight stitch lock stitch and rolled hem over locks.
Check out their website:
I think it's a fantastic range and a very worthwhile investment. First impressions count and the best possible presentation of your stock is crucial. These machines will make your lives a lot easier, and your customers will love seeing all your neatly steamed and pressed gowns and veils.
Helena