Tuesday 3rd October 2017:
Let's talk pants – and bras.
How many times have you seen a bride in tired, grey underwear, specifically a bra, which doesn't fit? Saggy and baggy, it does nothing to enhance her figure.
Fitting wedding gowns on a bride without the correct underwear can leave them feeling sad and disappointed. (Let's not forget their black socks rammed into a bridal shoe too. Doesn't make for a good customer experience does it!). For you, it can be a mammoth task trying to make the dress look it's best. How many times have you said to a customer, "When it fits you properly/when it's your size" as you try to manoeuvre the bodice to fit?
Recently I caught up with Debbie and Anthony from Benmark in London who specialise in bridal foundation garments:
I started by asking Debbie about the importance of wearing the correct underwear with a wedding gown.
She says, "Underwear is so important for the bride to feel special during her day, without the worry of having to hitch her dress up during the evening because she has lost half an inch since her last dress fitting.
The boning that is placed inside the dress is to make the dress look good, and is not meant to replace any type of underwear.
The dress is not ordered by the girls cup size and so they need to have some form of bra/basque to hold their bust in the correct place all day. Most dresses are made with the same cup whatever the size of the dress".
We then went on to discuss their fantastic range of underwear. Debbie says "Let's start with the best sellers. Due to the fashion of low back dresses over the last two years, we have had a massive take up of the 6377 Low back bustier by Dominique. This style fastens at the waist and is open until the waist. This style is made to a DD cup and from 32 -44 back.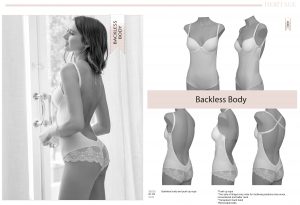 The 8500 low back smooth long length basque was developed for the girls who needed something low but also smooth, it is made with a slightly thicker material at the front to completely hide any of the bones in the basque and has a totally smooth cup. This is made to a 44DD and starts at a 32B.
Ivette have designed and make a body that is open to the base of the spine. The body is made at present in a B/C cup. Ivette are expanding the item by the end of December to a C cup and are also going to make the item in nude without any lace".
I know from experience how the correct underwear can make or break the look and feel of a gown for a bride. So, if using it isn't something you've ever thought about, try it – you won't be disappointed. And, for your customers, watch their confidence grow as they see how fabulous they can look with the correct underwear.
When it comes to customer service, Benmark are brilliant. They offer advice re fitting if it's new to you. Nothing is too much trouble – they are always available to help which is reassuring isn't it.
Debbie and Anthony have designed a well priced fitting room pack to help you begin using underwear in your shop. They can be reached via their contact form:
http://www.benmarkltd.com/www-benmarkltd-com.htm
Their website address is:
http://www.benmarkltd.com/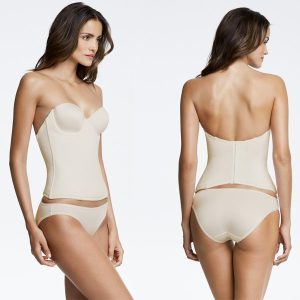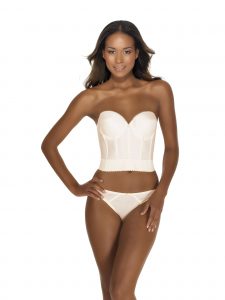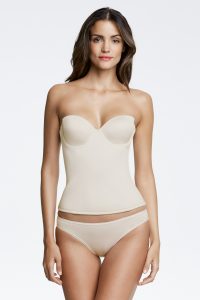 They also supply underwear in black for that special evening out.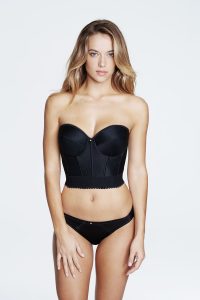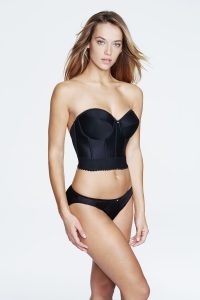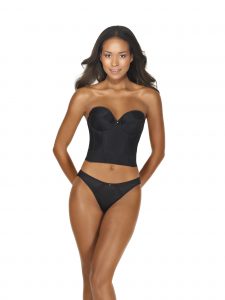 Best of luck – you will be amazed at the results I am sure.
Helena