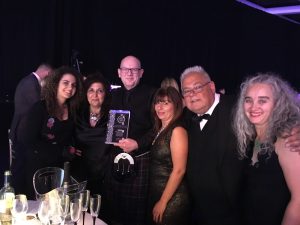 Wednesday 13th September 2017: 
So exciting!
Marguerite Hannah won Designer of the Year at the awards ceremony in Harrogate on Monday night. A very well deserved accolade. What a treat being there to share their celebration. Thank you for inviting me.
It was a fantastic night with novel, apt entertainment and a really great occasion to catch up with lots of people. It was so glamorous with red carpet gowns; lots of bling and fabulous hair do's.
Big congratulations to all the finalists and winners.
Helena